'Remove all the bases!' 'US forces Out!'
Indignant protesters raised their fists at the US headquarters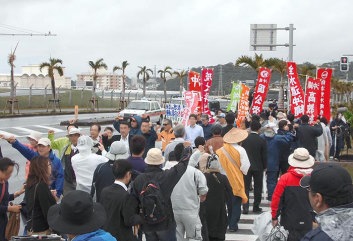 Voices against the revision of the Constitution, against Japan's participation in a war resounded through city streets,
Kanazawa, November 11th
'Stop a nuclear Korean war!'
Kanazawa Univ. students staged a demonstration together with trade union workers in spite of heavy rain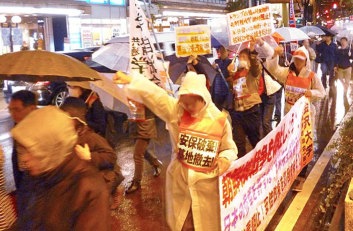 Against the development of the nuclear fuel cycle! No to the restart of nuclear reactors!
Kanazawa Univ. students fought in the forefront
'Scrap the fast-breeder reactor Monju!' National Rally in Fukui, November 5th
'Stop the restart of nuclear reactor operations!
No to the 'plutonium-thermal project'!'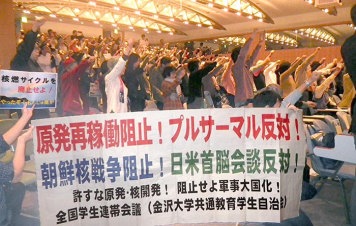 [4-5]
The 100th anniversary of the Great Russian Revolution
Photos of the revolution exhibited in the JRCL political meeting (Part 3)

| | | |
| --- | --- | --- |
| | | |
The JRCL appeals to the working people all over the world
- Based on proletarian internationalism, let us fight to stave off a nuclear war!
- Awake to the anti-Marxist nature of Stalinism!
- Rally under the banner of anti-imperialism, anti-Stalinism!
Click to see the full text
[5]
No to the imposition of extremely intensified labour on postal workers
due to a dramatic increase in the number of 'Yu-packs' [postal packages]!
Don't allow automobile monopolies to exploit irregular employees
by forcing short-term contracts, low wages and long working hours on them!
They are taking mean advantage of a legal loophole to secure 'cheap, disposable labour-power'
Topics
The Tokyo Metropolitan government has set out putting pressure on its affiliated, metropolitan-financed outsourcing companies
to exploit workers 'more effectively'
[7]
The Abe government revised a law for a new employment system
Don't allow municipal governments to promote the replacement of regular workers by irregular staff!
[8]
The 'independence' of Catalonia:
Ethnic and regional divisions are deepening
- What lies behind the revolt against the central government of Spain?
-- The rise of ethno-nationalism
- Social and economic contradictions are intensifying under Germany-led EU regulations
- Working class struggles are in confusion under the influence of an ideology called 'de-ideologization'
The civil war in Spain remains imprinted in the memory of Catalan people
TOP