Stop a nuclear Korean war!
Rise in workers and students' emergency actions
on May 14th!
Overthrow the Abe government hell-bent on waging war and revising the Constitution of Japan!
Down with the Trump administration getting ready to invade North Korea!
Down with the Kim regime targeting nuclear missiles on the people of South Korea and Japan!
People all over the world, unite across borders and rise up in a fight!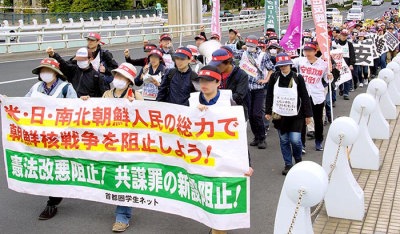 'Stop a nuclear Korean war with the united power of the people of the USA, Japan, and North and South Koreas!'
Holding up a huge banner, militant students spiritedly marched after the March 3rd rally (See below)


- Stop the warmongering of the US, Japanese and South Korean governments, as well as the North Korean government!
- Rise up and topple your governments at home under the banner of proletarian internationalism!
- Let us fight in solidarity with the people of North and South Koreas!

[2]
'Rise to stop a nuclear Korean war!' The JRCL appealed to 55,000 workers and toiling people
An anti-constitutional revision rally, May 3rd, Ariake, Tokyo
'Stop the revision of the Constitution! No to the 'legislation against conspiracy'!' 'Block the construction of a new US base in Henoko!' Angry voices of rally participants resounded throughout the venue

'Stop a nuclear Korean war! Down with the Abe government!' Students from the metropolitan area fought firmly to create a militant upsurge of the rally

The ruling LDP has started emphasizing Japan's need to hold 'potential for pre-emptive strikes on enemy bases'

[3]
Solidarity messages from abroad in response to the call of the JRCL to stop a nuclear Korean war
- Fraccion Leninista Trotskista Internacional - Colectivo por la IV Internacional (FLTI), Argentina
- The Revolutionary Association of the Women of Afghanistan (RAWA), Afghanistan
- The Russian Party of Communists, Russia
- The Organising Committee for the Reconstitution of the Fourth International (OCRFI), France
- Workers Revolutionary Party (EEK), Greece

[8]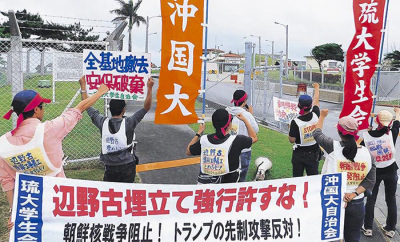 'No to the US imperialists' pre-emptive attack against North Korea!'
Zengakuren Okinawa staged an emergency protest: at the headquarters of the US Forces in Okinawa, April 26th

(Pic left)


Protesters' anger exploded at the Japanese government's forcible start of embankment work in Henoko
Thousands rallied to the Okinawa People's Rally: in front of the Camp Schwab gate, April 29th
'Stop a nuclear Korean war!' The call of the JRCL evoked ardent responses among rally participants
(pic left) 'Block the reclamation work! No to the conspiracy bill!' 3,000 protesters raised angry fists at the Camp Schwab gate
(pic right ) Ryukyu Univ. and Okinawa Int'l Univ. students raised yells on the beach towards the construction site, after the rally.


Militant students unfolded dauntless struggles day and night at the construction site: April 24th-25th
April 24th: Students blocked vehicles from carrying in construction materials
April 25th: 'Stop the embankment work!' Together with workers and residents, they vehemently denounced the start of the cranes to throw rubble into the sea (Pic left)


[4]
Expose the Abe government's ultra-reactionary designs underlying the conspiracy bill!
Shatter the legislation of today's version of the Maintenance of the Public Order Act!
1. The government is playing fascistic cheap tricks deceiving workers and the toiling masses
2. It is attempting to introduce an American-style repression in the name of public security

[5]
Stop the resumption of Genkai No.3 and No.4 nuclear reactor operations!

The Takahama nuclear power plant accident: A giant crane fell amid the emergency work to reinforce the reactor vessel
Expose the true cause of the accident! The Abe government accelerated the work to prepare for North Korea's missile attacks
No to the restart of Takahama No.3 and No.4 nuclear reactors!

[6]
The fight of revolutionary workers in JEC [Japanese Federation of Energy and Chemistry Workers' Unions]:
Denounce the treacheries of the labour aristocrats!
Fight out for a militant upsurge of chemical industry workers' 2017 spring labour offensive!

Topics
58 % of junior high and 34% of elementary school teachers have turned out to be working beyond the 'critical point' leading to death from overwork
Teachers are plunged into murderous busyness caused by the Abe government's promotion of 'patriotic', meritocratic education

[7]
The JRCL called on workers to rise in a fight against a nuclear Korean war The 88th May Day rallies
Rengo [Japanese Trade Union Confederation]'s central rally, April 49th, Tokyo
The JRCL called on 40,000 workers to overthrow the Abe government

Zenroren [National Confederation of Trade Unions]'s central rally, May 1st, Tokyo
JCP-affiliated leaders' preaching about a 'joint struggle of constitutionalist opposition parties, citizens and trade unions' met a half-hearted applause

Zenrokyo [National Trade Union Council]'s rally, May 1st, Hibiya, Tokyo
Militant workers strived to overcome union leaders' distortion of struggles into a joint struggle with Zenroren for election campaigns

TOP