For a revolutionary change of the
contemporary world in the crisis of war!
Make a great leap forward for the
anti-Stalinist communist movement!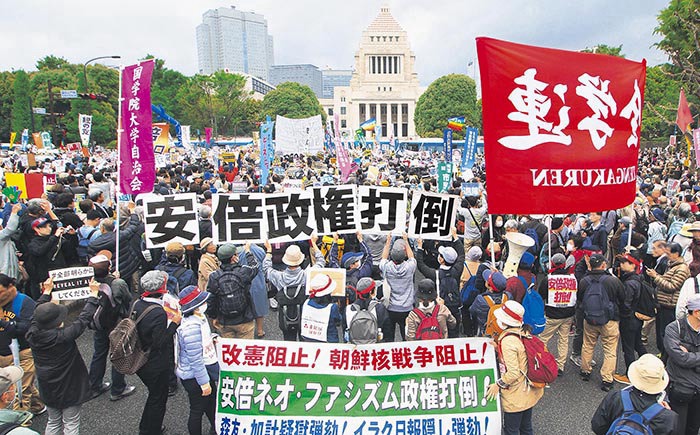 Zengakuren putting up placards in an action against the Abe government
in front of the Diet Building, together with tens of thousands of protesters,
April 14th, 2018

I. The Abe government hell-bent on revising the Constitution, on bringing Japan into a greater military power

II. A confrontation between the US and China-Russia: a danger of war growing
A. The rivalry between the US and China escalating in East Asia
- A hair-trigger situation in the South China Sea
- Competition for technological supremacy heating up
- Xi's 'one belt, one road' initiative and Trump's 'Indo-Pacific strategy'
- US imperialism increasing its pressure on North Korea
B. Wars spreading in the Middle East
C. The US and Russia confronting over Ukraine
D. The nuclear arms race between the US and China-Russia on a new level

III. Put up an all-out counter-attack against the Abe government's offensive of revising the Constitution!
A. Shatter Abe's plot to revise the Constitution! Stop the new US base construction in Henoko!
- Overcome the parliamentarianist distortion of struggles by the Japanese Communist Party!
B. Denounce the JTUC labour aristocrats' attempt to destroy the spring labour offensive! Fight to win a big, across-the-board wage increase!
C. Don't allow the cruel abuse of foreign workers as 'easily disposable labour-power'!
D. Stop the raising of the consumption tax rate!

IV. Fight for a big advance in the anti-Stalinist, revolutionary communist movement!

[5]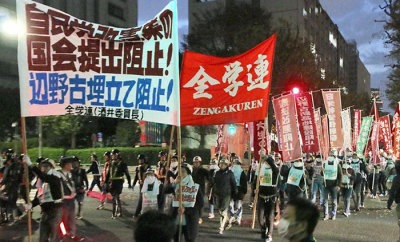 'Stop the constitutional revision!
Stop the dumping of sand in the reclamation site for a US base construction in Henoko!'

A militant demonstration was staged by Zengakuren gathered from all over Japan
Tokyo, December 8th

(pic) White-helmeted students marching on the PM's official residence, on the national assembly


Block the dumping of sand in the sea of Henoko!
Actions taken simultaneously in Okinawa and Tokyo against the start of the dumping of sand, December 14th

Protesters staged a sit-in to block
the US Camp Schwab gate
near the reclamation site of Henoko

The canoe flotilla fighting to block the sand dumping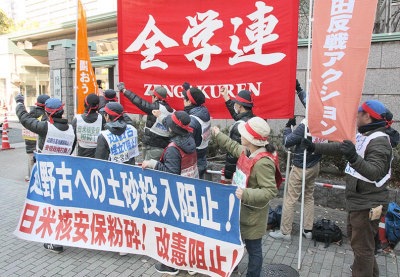 Metropolitan Zengakuren rose in protest in front of the Defense Ministry in Tokyo
at the moment when the first sand was dumped in the sea of Henoko

[6-7] A New Year's cartoon
The year of the Boar:
Abe the wild boar rages and ends up stewing on the fire of class struggle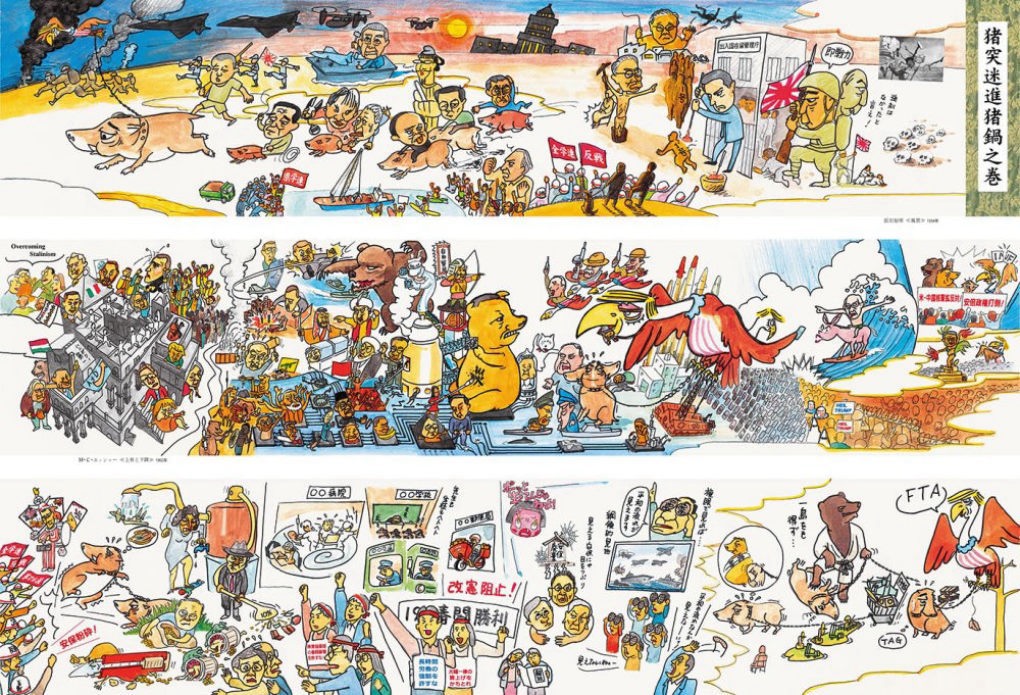 [8-9]
Monopoly capitalists are intent on sweeping away Japanese-style labour practices
In the face of the strife between the US and China, the Abe government is badly shaken
1. The Japanese government and the monopoly bourgeoisie have embarked on a drastic labour market reform
- Monopoly capitalists are frantic to build up a 'social labour market' to secure ICT-related technical workers immediately effective
- By introducing artificial intelligence, capitalists are expelling workers from their work sites
2. The 'longest post-war boom' is a pure fabrication by the government
3. So-called 'labour shortage' bespeaks the critical decay of Japanese state monopoly capitalism

[10-11] New Year's resolutions
The Okinawa Prefectural Committee
The Hokuriku Regional Committee
The Hokkaido Regional Committee
The Postal Workers Committee
The Traffic and Transport Workers Committee
The Education Workers Committee
The Mass Communication Industrial Workers Committee
The Chemical Industrial Workers Committee

[12] Photos: Fights in 2018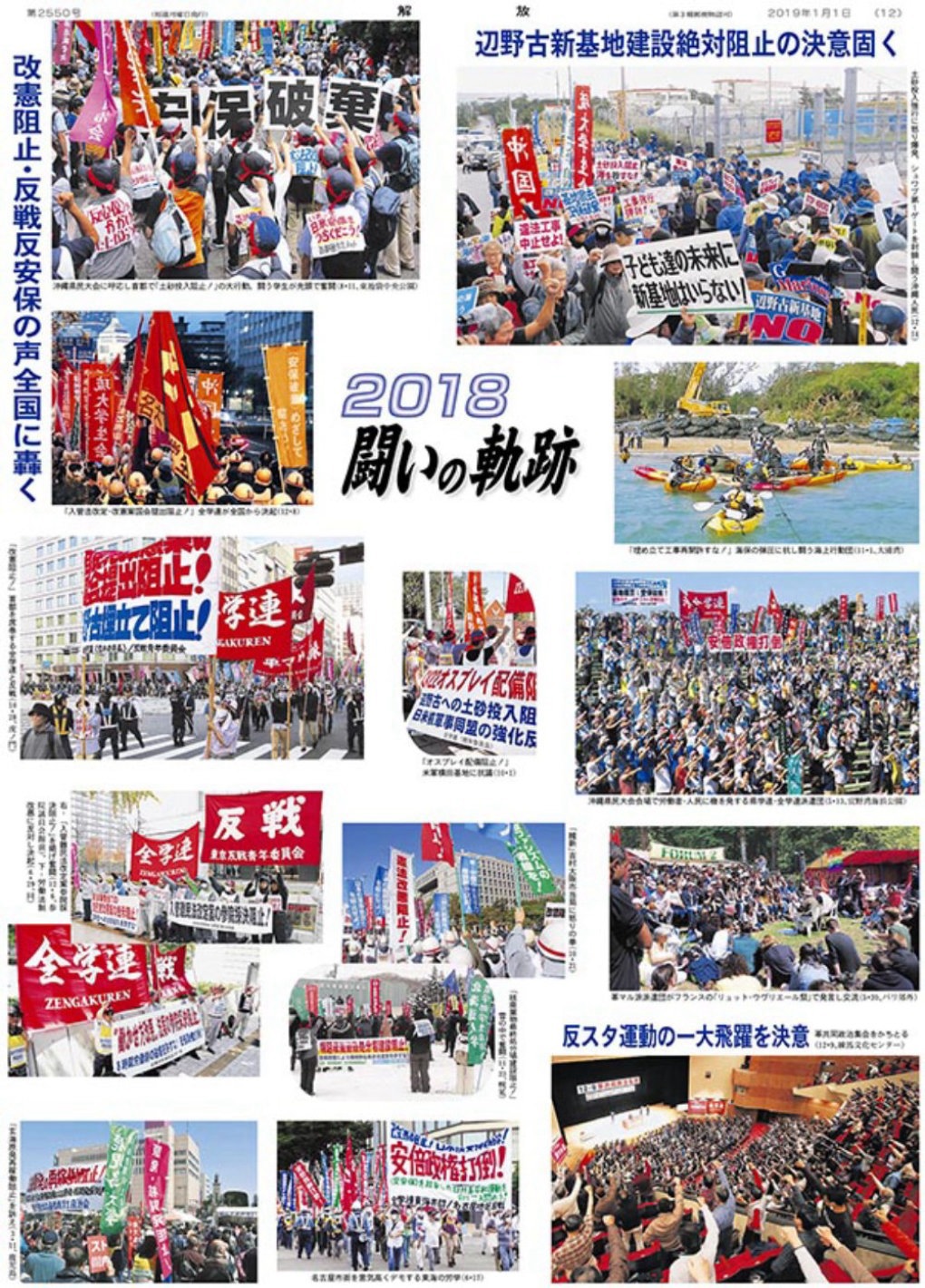 Stop the US base construction in Henoko!
- Protesters, indignant at the start of dumping sand, blocked the Camp Schwab gate to stop the reclamation work, December 14th, Henoko, Okinawa (top right)
- Acting in concert with the rally in Okinawa against the dumping of sand in the sea, militant students fought in the forefront of the protest in Tokyo, August 11th (top left)
- 'No to the resumption of reclamation!' The canoe team fighting despite repression by the Coast Guard, November 1st, Henoko (second from top, right)
- Zengakuren Okinawa and delegates from all over Japan joined in the people's rally and fought for a militant upsurge of the rally, May 13th, Ginowan, Okinawa (third from top, right)

- The JRCL delegation to the Lutte Ouvriere Festival gave a talk at a forum, May 20th, Paris (second from bottom, right)

Participants resolved to strive for advances in the anti-Stalinist movement
- JRCL public political meeting, December 9th, Tokyo (bottom, tight)

Calls to stop constitutional revision, to fight antiwar, anti-Ampo [US-Japan military alliance] struggles resounded through the country
- 'No to the revision of the Immigration Control Law! Stop the parliamentary procedure for constitutional revision!' Zengakuren from all over Japan fought, December 8th, Tokyo (second from top, left)
- 'Smash the revision of the Constitution!' Antiwar youths and Zengakuren marched through central Tokyo, October 28th (third from top, left)
- Militant students staged a protest against the deployment of CV-22 Ospreys in the US Yokota base, October 1st, Yokota, Tokyo (centre, under the title)
- 'Stop the railroading of the bill to revise the Immigration Control Law!', in front of the Diet Building, December 6th (third from bottom, left)
- White-helmeted students and workers held up fists at the reactionary city authorities in an anti-constitutional revision action in Osaka, October 21st (third from bottom, centre)
- Resolute fight against the historic revision of labour laws in front of the Diet Building, June 29th (second from bottom, left)
- 'Stop the construction of a nuclear waste disposal plant!' Students strived with workers and farmers in intense cold, November 23rd, Horonobe, Hokkaido (second from bottom, centre)
- Militant youths issued a call to stop the resumption of the Genkai reactor operation and fought together with workers, Kagoshima, March 11th (bottom, left)
- Tokai region antiwar youths and Zengakuren marching under a big banner 'Down with the Abe government!', Nagoya, June 17th (bottom, centre)

TOP