Turn the 21st century of darkness into a century of revolution!
Make a powerful advance of the anti-Stalinist communist movement!
Zengakuren and Antiwar Youths marched on the Diet Building, PM's Office and the US Embassy Tokyo, Oct. 17th

I. Strenuous efforts of the revolutionary workers and Zengakuren made amid the spread of Covid-19 infection
- Prompt counterattacks against the offensive of the Kishida government:
--against armed expansion, against the strengthening of the US-Japan Military alliance and against the revision of the Constitution
- Creative efforts in both the labour and the student fronts
II. The increasing danger of the outbreak of war between the US and China in league with Russia
A. A head-on clash between the US and China in collaboration with Russia over Taiwan and Ukraine
B. Xi Jinping-led China is making a frantic dash for a 'great contemporary socialist country'
-- Xi's desperate attempts to get through the economic crisis by raising the slogan 'self-support and self-reliant efforts'
-- Raising the flag 'Socialism with Chinese characteristics' and 'Chinese democracy'
-- Putin's ambition: 'revival of Great Russia'
C. Declining US imperialism is desperate to 'rebuild alliances'
-- The Biden administration is getting close to a lame-duck
D. The 'new East-West cold war' in the 21st century
III. Reactionary offensives of the Japanese-type neo-fascist government led by Fumio Kishida
A. A dash for constitutional revisions, military expansion and a further strengthening of the US-Japan military alliance
B. Launching out into a drastic change in Japan's industrial structure, towards 'digitalization and de-carbonization'
C. Abysmal degeneration of the Rengo labour aristocrats and the JCP as converted Stalinists
IV. Never ever allow the revision of the Constitution! Oppose the expansion of armaments!
----Create an upsurge of the 2022 Spring Labour Offensive!
V. Carve out a 'century of proletarian revolution'!
A. Let us face up to Stalinism!
-- The decline of US imperialism and China's challenge
-- The Stalinist transformation of revolutionary Russia and its final burial
B. Let us advance forward under the banner 'anti-imperialism, anti-Stalinism'!


--------
Historic crimes of Stalinism and the struggles of the revolutionary left
  1) The Czechoslovakian incident, August, 1968
----2) Two 'wars between socialist states' (The Vietnamese invasion of Cambodia and the Chinese aggression against Vietnam), 1978-79
  3) The Soviet invasion of Afghanistan, 1979
----4) Polish workers' struggle, 1980, and its repression by the military autocracy, 1981
  5) The Chernobyl nuclear disaster, 1986
  
[6-7]
A New Year's cartoon


The Grand Sumo Tournament of the World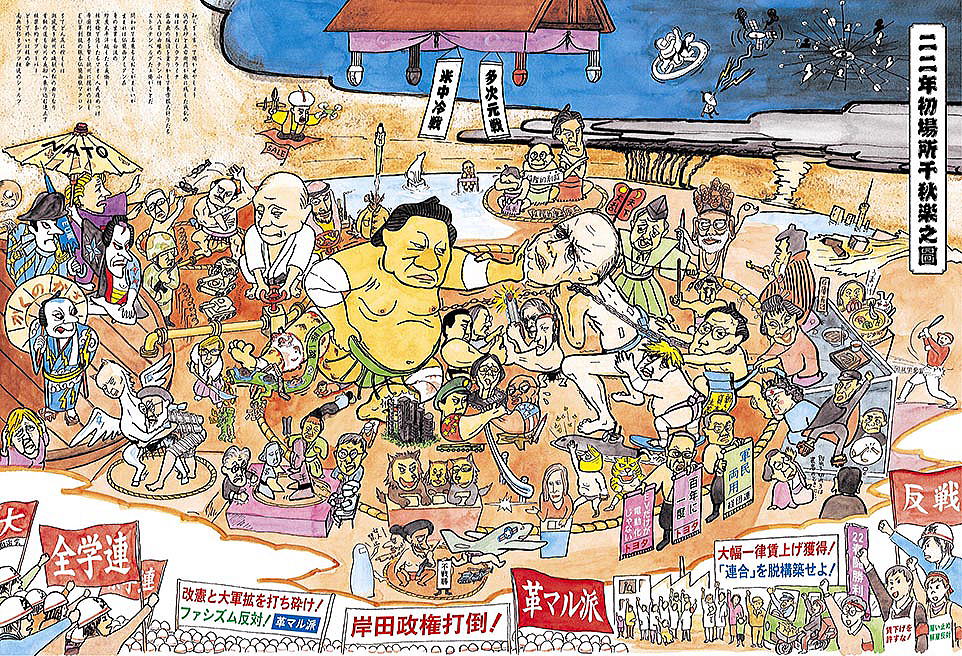 [8-9]
Xi-led China coming to a dead end
1. The bankruptcy of China Evergrande Group
2. So-called 'realization of common prosperity':a bureaucratic trick replete with deceptions
3. The basic structure of China's 'socialist market economy'
4. 'Pseudo-capitalism' and its anti-proletarian nature

[10-11]
New Year's resolutions (Part 1)
The Okinawa Prefectural Committee
The Kyushu Regional Committee
The Hokuriku Regional Committee

The Postal Workers Committee
The Prefectural / Municipal Workers Committee
The Traffic and Transport Workers Committee
The Chemical Industrial Workers Committee
The Telecommunication Industrial Workers Committee

[12]


Struggles in 2021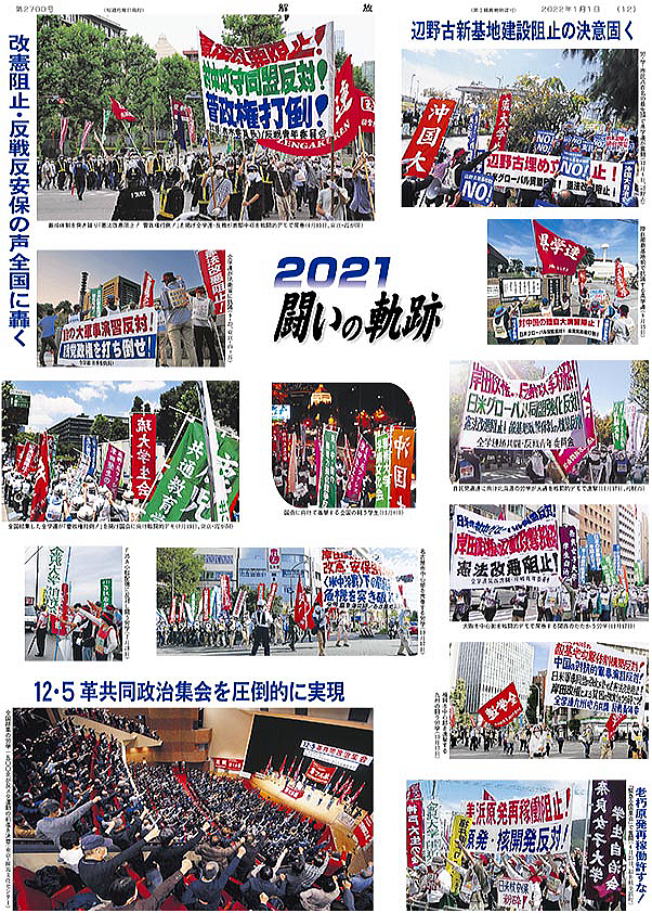 'Stop the revision of the Constitution! Let us create antiwar, anti-Ampo struggles!'
Voices of militant students echoed through the country

(top left) 'Prevent the constitutional revision! Down with the Suga government!' Zengakuren and antiwar youths carried out a militant demonstration in the government district, Tokyo, June 13th

(second from top, left) Zengakuren making a protest to the Ministry of Defense, Tokyo, September 23rd

(third from top, left) 'Down with the Suga government!' Zengakuren students coming from all over the country advanced towards the Diet Building, Tokyo, July 19th

(third from top, centre) Militants from across the country marched on the Diet Building, December 4th

(fourth from top, left) Workers and students protesting against the deployment of F-35A fighter Jets in the SDF Komatsu air base, Ishikawa Prefecture, July 28th

(fourth from top, centre) Workers and students demonstrating in the city centre of Nagoya, October 17th

(third from top, right) Workers and students of Hokkaido marching on the LDP local office in Sapporo, October 17th

(fourth from top, right) Workers and students' united action in the Kansai region, Osaka, October 17th

(second from bottom, right) Workers and students in the Kyushu region marching in the centre of Fukuoka, October 17th

Resolved to stop the construction of a new US base in Henoko, Okinawa

(top, right) Zengakuren Okinawa fighting in the van of 800 workers and citizens of Okinawa, Henoko, December 4th

(second from top, right) Zengakuren Okinawa protesting in front of the Ground SDF base in Naha, September 15th

Stop the resumption of operation of aging reactors!

(bottom, right) Students fighting in an emergency national rally and demonstration in Mihama, Fukui Prefecture, June 23rd

The JRCL political meeting held in high spirits

(bottom, left) 1,500 workers and students gathering from all over the country renewed their resolve to advance the anti-Stalinist communist movement, Tokyo, December 5th

TOP